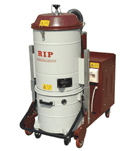 RT series three-phase(minitype)
DESCRIPTION
RT series is designed for continuous service in
production lines connecting operation, such as
ceramics, metal processing, chemical production .
FUTURE
1. International turbine vacuum casting aluminium alloy technology, after running
  without maintenance, having CE or 3C certification;
2. Equipped with a manual filter shaker,it is easy to clean the filter bags;
3. Cyclonic Separator greatly reduces the cleaning time and prolongs the filter bag's
  life;
4. Star HEPA filter increase the filtering surface;
5. Standard filter accuracy:5-7μm air filter efficiency:99%; optioning HEPA efficient
  and tectorial membrane filter bag, accuracy:0.3μm , air filter efficiency:99. 9%;
6. Overheating &overloading protection controlling units ensure the prime quality.


| | | | | | | |
| --- | --- | --- | --- | --- | --- | --- |
| | | | | | | |
| | | | | | | |
| Turbine vacuum casting aluminium alloy, performance is reliable, safe, durable | | Electrical control equipped with protective guards to protect the electrical components | | The top of equipment box with trough for accessories management | | Brakeing castors ensure security and stability |

Standard fitting:



Flexible hose(L=2.5m)
Elbow
Brush
1piece
1pair
1each



PARAMETERS
| | | | |
| --- | --- | --- | --- |
| Model | Units | RT-022 | RT-030 |
| Volts | V/Hz | 380/50 | 380/50 |
| Power | Kw | 2.2 | 3.0 |
| Vacuum | mmH2O | 2800 | 2800 |
| Air flow | m3/h | 222 | 245 |
| Filter | cm2 | 24100 | 24100 |
| Container | L | 65 | 65 |
| Suction | mm | 50 | 50 |
| Noise | db(A) | ≤70 | ≤70 |
| Dimensions | mm | 1220×660×1350 | 1220×660×1350 |
| Weight | kg | 113 | 117 |