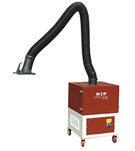 RH-2000 series economy pattern
DESCRIPTION
RH-2000 welding smoke exhaust systems for
economic are special for welding fume Produced
by the welding site. Such as electric arc welding,
carbon dioxide gas shielded arc welding, TIG etc..
Exhausting arms collect hazardous smoke in the
top one of air cleaner.Smoke go to the first filter
layer through the top one , and the small particles
are separated impurities ,the leavings go to the
high efficiency filter, the efficiency arriving to the 99.9%,
the last clean air come to the workshop again.
FUTURE
1. The exhaust arm which is rotated by 360。can be fixed, welding fume is
  absorbed effectively ,thereby improving the operating environment;
2. Advanced design of fan, large amount of wind, low power consumption;
3. Control the use of over-current electric overload protection devices, safety
4. Detect the use of imported components and controlling the pressure of lights,
 a timely show of cleaning the filter state
5. The material of first filter layer cost very low and clean very easy;
6. The second filter layer is main filter core, and produce a large quantity of wind;
7. Fans take to the air deflector grille air vents, and equipped with sound-absorbing
  cotton lining, noise to a minimum;
8. Have brake casters and can be mobile.

Standard fitting

Optional fitting
1.Filter membrane
2.High efficient filter
3.Exhaust arm L=3m
1piece
1piece
1set
1. Optional activated carbon fiber filter,
  with the exception of taste function
2. The length of exhaust arm arrive to the 4m
| | | | | | | |
| --- | --- | --- | --- | --- | --- | --- |
| | | | | | | |
| | | | | | | |
| Multi-angle changes inspiratory arm can be arbitrary 360-degree rotation and overpressure light filters arbitrary fixed | | The rational design of masks and suction plate for the wind | | Breathing masks with protective net | | Electric control panel filters are ultra-high-pressure indicator |
PARAMETERS
| | | |
| --- | --- | --- |
| Model | Units | RH-2000 |
| Power | Kw | 1.1 |
| Volts | V/Hz | 380/50 |
| Air flow | m3/h | 2000 |
| Inspiratory gas arm | m3/h | 1200 |
| Noise | dB(A) | 74 |
| Filter | % | 99.9 |
| Weight | kg | 89 |
| Dimensions | mm | 760×680×1070 |